GLOBAL HEALTH SUMMIT (GHS) TOUR
2023-2024
Pre GHS Tour - Vietnam and Cambodia Dec 23-30, 2023
GHS India - Dec 13, 2023 - Jan 06, 2024
Post GHS Tour - Sri Lanka & Maldives Jan 07-16, 2024
Dear Friends,
Inviting all our Physicians, their family, friends and colleagues to join us on our Global Health Summit Program from Dec 31, 2023 till Jan 06, 2024 in India with Pre GHS Tour to Vietnam & Cambodia from Dec 23-30, 2023 and Post GHS Tour to Sri Lanka & Maldives from Jan 07-16, 2024.
In these Pre and Post Indochina & Asia Tour journey, you will explore what is left of the once flourishing powerful kingdom of Cambodia, Vietnam, Sri Lanka and Maldives as well as its original cultures.
Under my supervision and guidance, you will find the value for your money without cutting any corners to ensure you stay most comfortable throughout Cambodia, Vietnam, India, Sri Lanka and Maldives.
We have made the Tour Booking totally hassle free for you
in which you will get full refund of your deposit if you cancel the trip before Sep 30, 2023
Our tested, reliable and experienced Tour Operator Pollina Tours will once again provide their 25 years of worldwide Tourism experience in operating this once -in -a lifetime dream vacation for you.
These dream-like VIETNAM, CAMBODIA, SRI LANKA & MALDIVES trips will leave beautiful & unforgettable impressions…
Please join today as space is limited. Thanks and best regards,
Dr. Anjana Samadder
President
PRE-GLOBAL HEALTH SUMMIT TOUR VIETNAM & CAMBODIA TOUR

(DEC 23-30, 2023)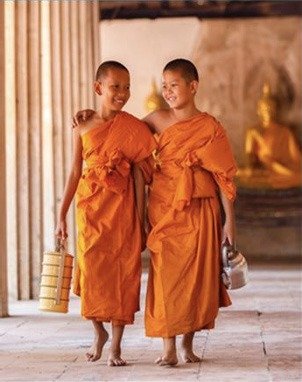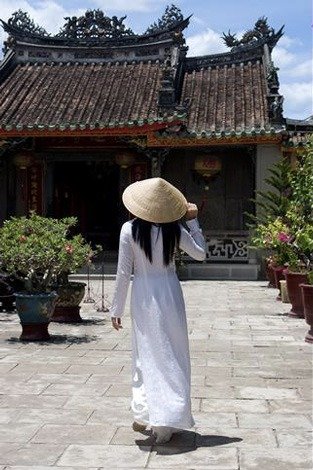 TOUR HIGHLIGHTS
Travel with Hassle Free Tour Booking with NO CANCELLATION PENALTY if you cancel before Sep 30, 2023.
Coach class airfare from Ho Chi Minh City (Saigon) to Hanoi.
Coach class airfare from Hanoi to Siem Reap
Deluxe class hotels
All meals Breakfast, Lunch and Dinner
Services of local Professional English Speaking Guide
Private deluxe airconditioned chauffeur driven motorcoach for Transfers, sightseeing & Excursions
Entrance tickets to the places of visit
Comprehensive sightseeing tours
06 Hours CME Credits for attending Physicians.
Cu Cu Tunnel – peak into Vietnam War history in Ho Chi Minh City (Saigon)
Boat ride on Mekong Delta in Saigon
Christmas Eve party in Saigon➢ Cyclo ride, Water puppet show, Temples in Hanoi city
Halong Bay overnight cruise – Spectacular, Mysterious, Misty and romantic 1000 limestone Island emerging out of emerald color waters.
Traditional folklore Apsara dance performance in Angkor Wat, Cambodia
Angkor War- A world heritage site of HinduBuddhist magnificent temple complex.
Much more fun and excitements!!
Dec 23, 2023 Arrive in Ho Chi Minh City (Saigon)
Arrive in Ho Chi Minh City, Vietnam by your own flight arrangements from your origin city. Welcome upon arrival at the airport by our Local English-speaking guide. Later, transfer to hotel Sofitel Saigon or similar category. Rest of the day is at leisure to relax and get over the jetlag. In the evening, enjoy your dinner at the hotel. Overnight in Ho Chi Minh City (Saigon) Meals: Dinner
Dec 24, 2023: Ho Chi Minh City (Saigon)
After breakfast, full day tour of Ho Chi Minh city. This dynamic city being the cultural trendsetter constitutes the core of Vietnam. The Ho Chi Minh City features French colonial architecture mingled with Chinese influences. Visit the Re Unification Palace Saigon's Notre Dame Cathedral, War Remains Museum, where you can learn a lot about the Vietnam War.
Also visit The Cu Chi Tunnels are a maze of interlinked tunnels that were built by the Viet Cong during the Vietnam War. Also Visit Mekong Delta-the colorful floating markets, emerald rice fields & Waterways; these are the things that make the Mekong so interesting.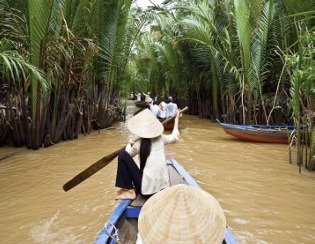 Journey to Vinh Long and cruise the water systems on boat, walk along the famous 'Monkey Bridges' that link the villages together its rivers as daily activities and businesses are conducted on its banks.
In the evening enjoy the Christmas dinner and dance party at the hotel.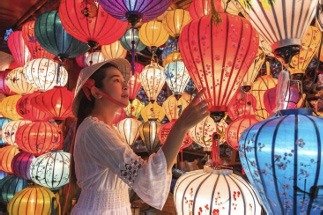 Overnight in Ho Chi Minh City (Saigon)
Meals: Breakfast, Lunch and Dinner
Dec 25, 2023 : Ho Chi Minh City – Hanoi.
After breakfast, check out of the hotel and transfer to airport for flight to Hanoi. Arrive in Hanoi and transfer to hotel. In the afternoon enjoy the tour of Hanoi. Take a Tuk Tuk ride through the winding streets of the Old Quarter, one of Hanoi's most atmospheric neighborhoods to enjoy the tour of Hanoi.
Hanoi, located on the banks of the Red River, is one of the most ancient capitals in the world, where travelers can find well preserved colonial buildings, ancient pagodas, and unique museums within the city Centre. A great place to explore on foot, this French-colonial city is also known for its delectable cuisine, vibrant nightlife, silks and handicrafts, as well as a multicultural community that's made up of Chinese, French and Russian influences. covering sites that include Hoan Kiem Lake— whose name recalls a 15th century legend about a magical sword—and Ngoc Son Temple, also known as the Temple of the Jade Mountain. Learn about the intellectual and religious heritage of Hanoi at Van Mieu – Quoc Tu Giam, the Temple of Literature, an imperial school which was built during the dynasty of King Ly almost a thousand years ago.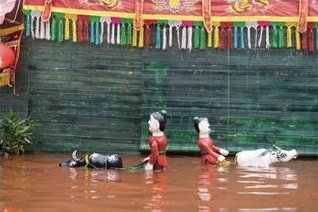 Stand at the food of the Pagoda But Thap, among the oldest pagodas in Vietnam, then see Dai Nghien, a carved, stone ink stand that rests on the backs of a trio of frogs. Visit the redpainted Huc Bridge. In the evening, enjoy the famous water puppet show. Overnight in Hanoi
Meals: Breakfast, Lunch and Dinner
Dec 26, 2023 : Halong Bay cruise
After breakfast, transfer to Halong Bay to board your boat for overnight cruise over the Halong Bay.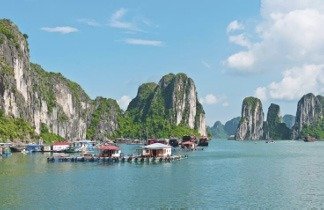 Accessible within a four-hour drive from Hanoi, passing through the scenic farmland of Vietnam, you will arrive in Ha Long to embark on a relaxing and romantic cruise through Ha Long Bay.
Arrive and embark on your overnight boat ride in Halong Bay. Today, your will experience Ha Long Bay to fully experience Vietnam's most iconic natural wonder. Located in northern Vietnam, Ha Long Bay boasts incredible islands, spectacular limestone karsts, fascinating grottos, and natural cave formations. Overnight on cruise in Halong Bay
Meals: Breakfast, Lunch and Dinner.
Dec 27, 2023 : Halong Bay cruise Hanoi-Siem Reap Cambodia
Discover the best to Halong Bay. Tour highlights include kayaking along Ba Trai Dao Beach, biking on Cat Ba Island, and a bamboo boat tour through local caves.
Later check out of the cruise boat and proceed to Hanoi airport for flight to Siem Reap, Cambodia. Welcome upon arrival in Siem Reap, Cambodia by your local English-speaking guide and transfer to hotel Sokha Siem Reap Resort & Convention Center
Meals: Breaskfast, Lunch and Dinner.
Dec 28, 2023 Siem Reap
After breakfast visit, Angkor Wat.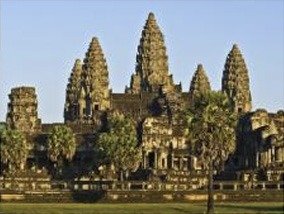 It was first a Hindu, then subsequently a Buddhist, temple complex in Cambodia and the largest religious monument in the world. The temple was built by the Khmer King Suryavarman If in the early 12th century in Yasodharapura, (present-day Angkor), the capital of the Khmer Empire, as his state temple ad eventual mauseleum. Angkor Thom South Gate AngkorThom, which includes South gate of Angkor Thom, Bayon, Bapounm m Pimean Akas, Terrace of Elephant, Terrace of Leper King.
In the evening enjoy the Apsara dance show and dinner.
Overnight in Siem Reap
Meals: Breakfast, Lunch and Dinner
Dec 29, 2023 Siem Reap
After breakdas, Visit Banteay Srei The pink sandstone construction temple built by king Rajendravatman V in late 10
th
century. Walls of Banteay Srei temple its self are densely covered with some of the most beautiful, deep and intricate carving of any Angkorian Temple. Visit Banteay Samre Built under Suryavarman II and Yasobarman II in the early 12
th
century, it is a Hindu temple in the Angkor Wat style. Visit Pre Rup-This temple was built in 967 AD dedicated to Hinduism. There are many stuccos left on the towers of temple.
Visit Eastern Mebon The ruined temple located in the middle of East Baray. Each corner has a giant elephant status. Visit Ta Prohm Temple Taprom temple (as known Tomb Raider Movie Temple) with its exciting interplay of stonework, nature, big tree and root cover on top of temple.
Dec 30, 2023: Siem Reap – Abroad
After breakfast, transfer to airport for your onward flight arrangement on your own to your next destination
TOUR ENDS